2017 NISSAN MICRA SR ROAD TEST REVIEW
July 14 2017, Southside Nissan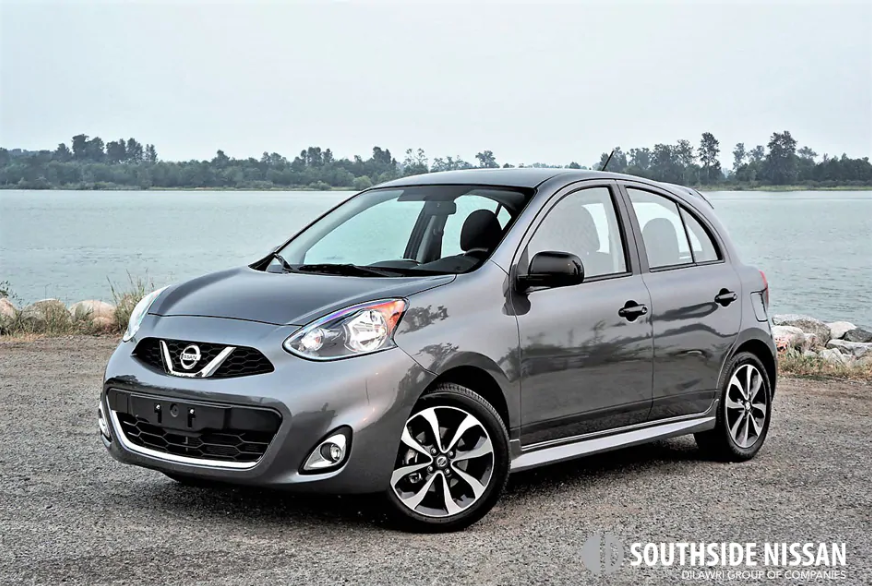 GETTING BACK TO BASICS CAN BE PLENTY OF FUN
Just in case nobody told you, there's no better new car for your money than the Nissan Micra. For only $9,988 plus freight and fees, which makes it the least expensive new car in the country, the 2017 Micra represents the best value in the entire Canadian auto industry.
What's more, it's so much fun to drive that Nissan Canada developed a spec racing series dubbed Nissan Micra Cup to tout its performance prowess, a smart way to change common perceptions about life with an entry-level sub-subcompact economy car.
In case you're wondering, the Micra Cup racing-spec car is no more formidable off the line than the just noted stock machine, its DOHC, 16-valve, 1.6-litre four-cylinder engine providing an identical 109 horsepower and 107 lb-ft of torque to the front wheels, which is sports car territory when factoring in the model's scant 1,044-kilo curb weight.

To put that last claim into perspective, the pre-owned 1985 Toyota MR2 mid-engine sports car that I managed to talk my boss into giving me for a daily driver after a particularly good sales month (I sold cars for a Toyota dealer in the late '80s) tipped the scales at a nearly identical 1,035 kilograms and made 112 horsepower and 105 lb-ft of torque from its AE86 Corolla-sourced 1.6-litre four. That was downright quick for its era, and while I won't directly compare Toyota's brilliant little "Twin Cam" and its sonorous 7,500-rpm redline to the Micra's slightly more utilitarian 6,600 maximum spin, both cars utilize standard five-speed manuals and optional four-speed automatics.

A SPORTS CAR-LIKE POWER TO WEIGHT RATIO MAKES IT IDEAL FOR ROAD AND TRACK
Of course, there are obvious performance benefits to the MR2's short-throw manual gearbox, lower centre of gravity, mid-engine rear-wheel drive chassis layout, etcetera, so let's just agree that owning a modern-day subcompact with a similar power-to-weight ratio to a revered classic sports car can result in plenty of smiles at the wheel, whether you have the talent of current 2017 Micra Cup season leader Olivier Bédard, or simply want to enjoy a spirited drive while commuting back and forth to work, the university campus, or running errands.
In truth, while more refined and filled with modern convenience and safety equipment, today's Micra has more in common with Toyota's little 2004-2005 Echo Hatchback, which was also a tall, two-box, front-drive subcompact, albeit with an even smaller displacement 1.5-litre four making 108 horsepower and 105 lb-ft of torque, a five-speed manual or four-speed automatic, and once again a featherlight curb weight of 944 kg. It was a cute looking little car as well, especially in sportier RS trim. Being that the base Echo Hatch started at $12,995 back in its day, and the pricier RS still fetches $4,000 to $5,000 now, this 13-year newer Micra seems all the more appealing.

TOP-LINE MICRA SR LOADED UP LIKE A LITTLE LUXURY CAR
As you can probably tell from the photos, the 2017 Micra SR currently in our garage sells for considerably more than the base S model. While the Micra S starts at $9,988 it moves up to $13,648 when adding the aforementioned automatic, an upgrade that also bundles in air-conditioning and steering wheel-mounted switchgear complete with cruise controls.
I should also mention these features come alongside a standard menu that includes tilt steering, a trip computer, variable intermittent wipers, an intermittent rear wiper, AM/FM/CD audio with speed-sensitive volume control and an aux jack, fabric seat trim, split-folding rear seatbacks, ABS brakes with electronic brake-force distribution and brake assist, stability and traction control, all the expected airbags, plus more.

Second-rung SV trim, available from $14,048, makes those last items standard no matter the chosen transmission, while also adding illuminated audio and Bluetooth phone controls to the left spoke of the steering wheel, powered windows and locks, the latter featuring remote keyless entry with a panic alarm, body-colour power-adjustable heated side mirrors, body-colour door handles, two more driver's seat adjustments for a total of six, a flip-down driver's seat armrest, upgraded cloth upholstery, chrome interior door handles, two more stereo speakers totaling four, etcetera.
Put beside these two models the top-line Micra SR seems ultra-luxe, thanks to unique sport headlights and taillights, fog lamps, chrome around those fogs as well as the front fascia's lower grille, side sill extensions, a rear rooftop spoiler, a chromed exhaust tip, and machine-finished 16-inch alloys with black painted pockets on 185/55 all-season rubber on the outside, plus a leather-wrapped steering wheel rim, a leather-wrapped shift knob (on manual transmission models), sport fabric seat and door insert upholstery, a colour display audio system with an integrated rearview parking monitor, a USB port, and more for $16,188 plus freight and fees.

STANDARD AND OPTIONAL FEATURES COMBINE WITH GOOD BUILD QUALITY
My $17,188 tester, which included $1,000 for the automatic transmission, also added $135 for Gun Metallic grey paint while boasting a $460 Colour Studio Trend package from the accessories catalogue featuring coloured mirror caps, door handles, and side sport stripes (glossy black the chosen "colour" in this instance), boosting the as-tested price to $17,783. Despite the Micra's fabulous base price, I'd be tempted to choose this very trim and accessories package upgrade because it looks so great and drives so well.
The infotainment system attractive looking thanks to chromed buttons and dials, the interface also nicely laid out. An aux plug sits alongside to the station memory presets, while a USB plug and 12-volt charger are down on the lower console. Using either wasn't an issue for me as I'd already paired Bluetooth to my phone, but for those still using older devices a direct aux connection is a bonus, while Nissan also includes an iPod menu to help Apple gadget users.

Audio quality is certainly good for this class, and better than anything I ever enjoyed in a car as a kid. I say this because the Micra is the type of safe, dependable vehicle you might purchase to get your young adult child to school and back. Buttons on the steering wheel will let them control audio functions without taking eyes from the road, while others can answer the phone and implement cruise control. If your kids complain about any lack of features you can annoy them with stories about not even having air conditioning in the car you learned to drive in, or at least that was my case. Refreshingly the Micra's upgraded HVAC system wafted out fresh gusts of nice cold air when called upon.
The little Nissan is put together well too, and features some appealing interior trim detailing. For instance, the previously noted leather-wrapped steering wheel is nicely stitched for a sporty upscale feel, while the spokes get satin-silver paint on and around the controls. That same metallic treatment straddles each side of the otherwise piano black lacquered centre stack, and trims out the shift knob and shifter surround as well. As mentioned earlier, nice bright metal highlights the infotainment, audio and HVAC switchgear, while the door handles are chromed as well.

SOME UPSCALE DETAILS REALLY SET THE MICRA SR APART
The door inserts feature an attractive blue and black patterned fabric over comfortable padding, but unfortunately it doesn't extended to the armrests, although a handy flip-down upholstered armrest is positioned to the right side of the driver's seat.
The stylish material on the doors matched up nicely with the seat insert upholstery, and Nissan even went so far as to contrast-stitch the bolsters in the same light blue for a wonderfully upscale look. Likewise, the carpeted floor mats received specially embroidered Micra badging, helping driver and guests to feel slightly more pampered than they may have initially expected.
Those seats are quite comfortable and plenty supportive for the Micra's size and price class, speaking of which the little Nissan offers impressive headroom. I had at least five inches left over above my five-foot-eight medium-build frame, while the same distance separated my shoulder from the B-pillar and about four inches remained next to my hips. A nice bonus aiding both comfort around the neck and safety are seatbelt shoulder harnesses that can be moved up or down from the pillar position.


Slide into the back and you'll find a bit less space from side-to-side, although at least three inches were left above my head and around the same for my knees. This should allow someone six feet or so tall to sit in back comfortably, even if they're wearing big, clunky winter boots thanks to a surprisingly generous amount of foot space. Three adults across the rear bench seat might be a bit tight, mind you, but smaller adults and younger children will be fine. Again, such should be expected in this sub-subcompact city car segment.
As you might also expect the rear cargo compartment is abbreviated, but with room enough for groceries, a gym bag, or backpack full of textbooks it's easy enough to live with. Max cargo volume actually measures 408 litres with the seats up, or about the size of a large compact car's trunk, plus 819 litres when the 60/40-split seatbacks are folded down. Simple latches atop those seatbacks allow you to drop them forward without necessitating a walk around to the side doors.

GREAT PERFORMANCE COMES STANDARD WITH EVERY MICRA
Once back in the driver's seat and focused on the road ahead, the Micra's featherlight curb weight transformed an otherwise workhorse powertrain into a little road rocket. Of course, the four-speed automatic isn't as rewarding as the five-speed manual tested previously, but it nevertheless moves the little car along quickly and is smooth enough about its business.
While a joy around town and surprisingly stable at highway speeds, the Micra comes alive when straights start to bend, its lack of mass and comparatively large 185/55R16 all-season tires providing ample grip for nimble response to arm-twisting input, while the vehicle speed sensitive electric power steering even providing reasonably good feedback.

The front suspension is independent with struts and a stabilizer bar, whereas Nissan incorporates the usual torsion beam setup in back with a stabilizer bar as well, yet it's the brand's long experience tuning performance cars that makes this humble hardware work wonders in the Micra. It's really a pleasure for powering through tight fast-paced curves and undulating backroads, living up to Nissan's legendary motorsport heritage.
Likewise the Micra's brakes were more than capable of bringing this waifish car to a halt quickly, even if loaded up with passengers and gear, while the aforementioned active safety hardware aids the process further in wet weather, helping to make the Micra as safe as cars in this class get.

Truly, if I needed a practical runabout I'd consider the Micra for my own use, let alone my driving-aged kids. There's something wonderfully appealing to this pure, honest, basic hatchback. Although, like I said earlier, I'd be tempted to go with this tarted up SR trimmed model with its noted accessories, racing stripes and all.
Depending on your stage in life, the Micra is either a great gateway vehicle into new car ownership or a wonderful throwback to simpler times when plenty of cars could be purchased for less than $10k. It's a boon to Canada's car market no matter how we try to classify it, and I hope it continues being available for a very long time.

Story credits: Trevor Hofmann, Canadian Auto Press
Photo credits: Karen Tuggay, Canadian Auto Press
Copyright: Canadian Auto Press Inc.