2019 NISSAN LEAF SL ROAD TEST REVIEW
July 22 2019, Southside Nissan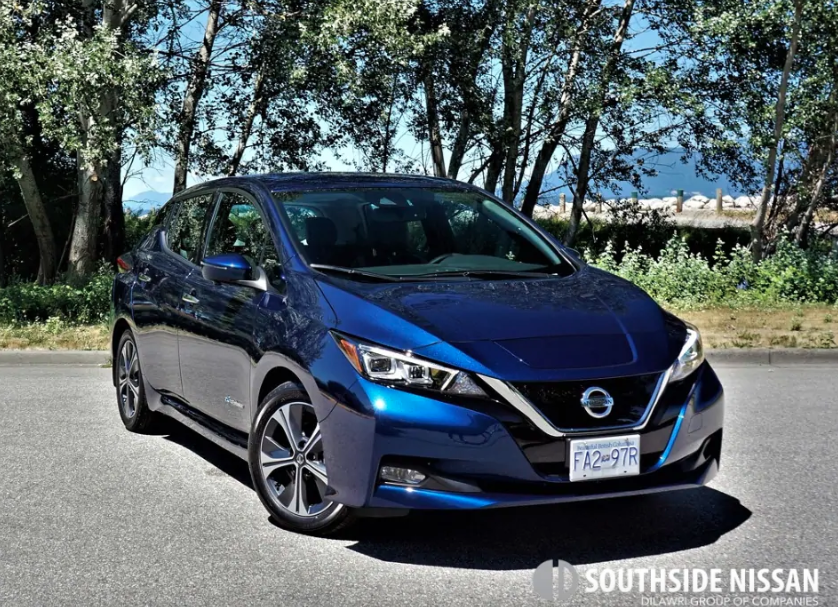 STYLISH AND SPORTY NEW LEAF DRIVES EXCELLENT VALUE
If you didn't initially recognize the car on this page as the Nissan Leaf, it's totally understandable. The world's best-selling electric vehicle was completely redesigned last year, reentering the market with a more sharply creased, sleeker looking design that now totally blends in with the rest of the Nissan lineup.
I like the look. This second-generation Leaf is all crisp, clean lines of trademark V-motion, floating C-pillar, Z-like taillight Nissan goodness, a sharp contrast to the ovoid Leaf of yore.

MORE ADVANCED 110KW ELECTRIC MOTOR IMPROVES PERFORMANCE AND RANGE
Along with the new look comes a more advanced 110kW electric motor that provides 30kW more get-up-and-go and much greater range than the outgoing model. Imperially that number reads 147 horsepower, a 40 hp gain over its predecessor, while torque is up 30 lb-ft to a much more motivating 236.
A more potent 40kWh Li-ion battery now powers the uprated motor, a 16kWh improvement over the previous generation without any increase in physical size. This means it can now travel up to 241 kilometres on a single charge compared to just 172 km for the old model, and this 69-km extension makes all the difference in the world.
Depending on the length of your commute or the complexity of your errand list, the new Leaf lets you drive around for days without recharging. What's more, the range anxiety some might have experienced with the outgoing model should be all but gone, as long as you top it up before the little blue battery graphic shows a need.

EASY TO CHARGE OVERNIGHT WITH A LEVEL 2 HOME CHARGER
Replenishing from near empty takes about seven hours from a 240-volt charger or more than an entire day when hooked up to a regular 120-volt household socket. I recommend you purchase a proper Level 2 charger so you can fill up overnight, or you'll be making a lot more impromptu stops at retail outlet charging stations than your schedule may allow for. Then again, if you can find a Level 3 DC fast-charging station you'll be able to fill it from near zero to 80 percent in about 40 minutes, while recharging to 80 percent is always significantly quicker than trying to top it off the final 20 percent, no matter which charging process you're using.
Fortunately, owning a plug-in allows for some front-of-the-line exclusivity when it comes to parking spots. In greater Vancouver the majority of shopping malls, big box stores, hotels, and government buildings offer free charging for their greenest customers, and more often than not these specialized parking spots are located right next to the front doors of their establishments, providing a level of VIP convenience to EV ownership.

SPACIOUS, WELL-MADE CABIN PROVIDES AN UPSCALE ATMOSPHERE
Livability in mind, the Leaf has always been roomy and comfortable. The new one is not noticeably improved for occupants or cargo, but its passenger area is still plenty spacious and its 668 litres of cargo space with the 60/40-split rear seatbacks upright and 849 litres when folded is generous thanks to a deep load floor that allows taller otherwise awkward items like plants to fit in with ease. This is because the battery doesn't protrude into the cargo area like some other EVs, with the Leaf SL's load floor nice and flat other than a smallish Bose Acoustic Wave System boombox butting up against the rear seatbacks, the impressive seven-speaker audio upgrade making the most of the otherwise near silent Leaf interior.
The Leaf cabin is certainly quiet thanks to a lack of engine and exhaust notes, the wind rushing past and the road below the only noticeable aural intrusions, and the latter two variables are kept to a hush thanks to ample sound-deadening insulation, plenty of plush surfaces, and soft-touch composites on the dash-top and door uppers, resulting in a refined environment for this class.

NEW LEAF PROVIDES GREAT VALUE WITHIN THE EV SECTOR
Of course, such should be expected of a compact hatchback costing upwards of $36,798, a seemingly steep price until considering the smaller Chevrolet Bolt starts at a whopping $44,400. Even after deducting our BC provincial rebate of $5,000 the Bolt stull nudges up against $40k, whereas the Leaf nears the $30,000 price point that's much more acceptable to small car buyers. If you move up through Leaf trim levels it'll cost you more, of course, with the mid-range SV priced at $40,698 and the top-line as-tested SL at $42,698. Again, you're driving away with a steal of a deal compared to the Bolt's fully loaded $49,300 price, while a similarly sized BMW i3 I recently tested had an asking price that was close to $80k.
You can bet that both the BMW and Bolt come fitted with leather seats and plenty more, but so does the Leaf SL. In fact, the SL's partially perforated leather upholstery was ultra-luxe thanks to a two-tone black and grey design, the latter comprised of the same microfibre-like Bio Suede PET cloth used for the two lower trims' upholstery, while plenty of blue contrasting thread was joined by the same stitching on the armrests, all complemented with blue accented graphics in the gauge cluster and infotainment touchscreen, not to mention a cool blue glowing gear selector.
The seats are plenty comfortable too, with powered lumbar support that fit the small of my back quite well, while a beautifully finished leather-wrapped, flat-bottom steering wheel looked and felt great in the hands, and featured high-quality illuminated switchgear.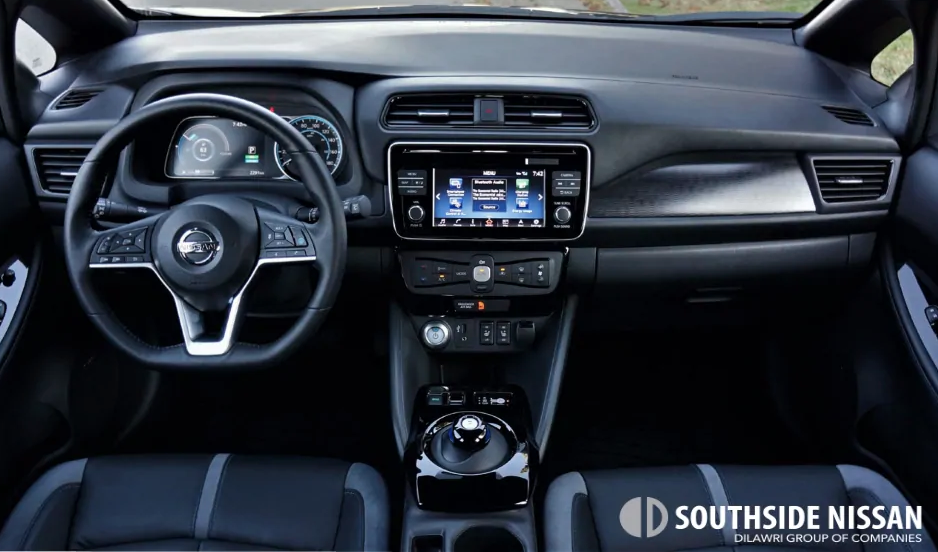 IMPRESSIVE DIGITAL INTERFACES SET THE LEAF APART
Some of those buttons actuate a standard 7.0-inch high-resolution colour TFT display that makes up the left two-thirds of the aforementioned gauge cluster, an attractive package filled with blue, green and white eco info plus more, whereas the right-side speedometer is circled with the same stylish aqua blue hue.
Over on the centre stack is a large 7.0-inch tablet-style touchscreen on SV and SL trims (the base audio display is 5.0 inches) complete with quick-access switchgear to each side and a couple of traditional rotating knobs that came in very handy for adjusting the audio volume and scrolling through the infotainment system's various functions, not to mention pushing to make audio sound adjustments. The graphics are attractive, and depth of contrast quite good for having a more fingerprint-friendly matte finish, plus the system is easy to operate and responds quickly to tap, pinch and swipe gestures, the navigation mapping especially reactive and the GPS guidance very accurate. Apple CarPlay and Android Auto smartphone integration is standard, as is a smartphone app that lets owners monitor their Leaf's charging status, schedule a future charging time, find recharging stations, pre-heat/cool the interior, and more.
A unique bowtie-shaped automatic climate control interface sits just below in all trims, while standard two-way front seat heater switches are included within a collection of buttons that also house a 12-volt charger, USB and aux ports, and the car's illuminated start-stop ignition button.

NEW E-PEDAL PROVIDES EASIER WAY TO TOP UP BATTERY VIA REGENERATIVE BRAKING
Pressing that ignition button brings the Leaf to life, with the only choices left being the option of default or Eco mode, and selection of the E-Pedal before releasing the electromechanical parking brake and taking to the streets.
The E-Pedal is essentially the Leaf's fourth driving mode, after default "D" for drive and "B" for increased regenerative braking, the latter two found by pulling the gear selector to the left and rearward once and then twice respectively, while Eco mode dulls response to throttle input and helps to eke out a little more range when driven economically. The new E-Pedal is more of an automated B-mode, in that it immediately applies regenerative braking when lifting off the throttle. This takes a little getting used to, but soon I found its smooth operation second-nature and even appreciated that it comes very close to bringing the Leaf to a full stop when not getting back on the throttle, while it certainly helped to recharge the battery.

B-mode still exists because some owners prefer recharging their battery manually, and to that end truly skilled drivers can probably get more kinetic charging from B-mode than the E-Pedal, or at least they claim to in forums, but those new to the Leaf lifestyle might be better off leaving the E-Pedal on and Eco mode engaged when trying to extract the most from a depleting battery. Nissan claims the E-Pedal is good for 90 percent of driving requirements, with the regular brake pedal only needed for the other 10 percent, and if used this way the Leaf won't need its brake pads replaced very often.
More importantly, all of these technologies help the new Leaf achieve an amazing fuel economy equivalent rating of 1.9 Le/100km in the city and 2.4 on the highway.

QUICK ACCELERATION AND GREAT HANDLING COME STANDARD
As long as Eco mode is turned off, throttle response is strong, especially when compared to conventional internal combustion engine-powered compacts. It's so quick, in fact, that getting on the throttle can become addictive, with a side-effect being reduced battery life, so depending on how often you want to recharge your Leaf I recommend curbing your enthusiasm.
Ride comfort is good considering its standard Michelin Energy Saver low roll resistance tires, with Vancouver's rougher streets and laneways, irregular pavement on our often reconstructed highways, and bridge expansion joints over the Second Narrows noticeable, but the suspension has good compliance for a compact hatchback, and as noted the seats are comfortable.
I was also pleasantly surprised the new Leaf handles so well, while it's good and stable at high speeds. To get more from the battery you'll probably want to leave it in Eco mode at speeds under 120 km/h, while I found the default Drive position better for higher speeds, as it coasts more effortlessly.

ADVANCED SEMI-AUTONOMOUS DRIVING ASSISTANCE TECHNOLOGIES IMPRESS
Speaking of effortless highway driving, the Leaf offers the option of Nissan's new ProPILOT Assist semi-autonomous self-driving in SV trims and above. It combines all-speed adaptive cruise control with steering assist so you can let your hands off the wheel for short durations while traveling down the highway. While it's certainly fun to use, it actually helps keep the Leaf centered within its lane and is a precursor to even greater self-driving autonomy in the future.
Automatic high beams are also standard on the Leaf's two upper trims, as is Intelligent Lane Intervention, Blind Spot Warning with Rear Cross Traffic Alert, and Pedestrian Detection for the otherwise standard Automatic Emergency Braking system, while Driver Attention Alert that warns of drowsiness is standard with the SL.
I found the automatic emergency braking system's warning system worked very well, mostly because it didn't flash its big orange warning very often. It only lit up when I was getting too close too fast, exactly like it should. Likewise, lane keep assist gently tugged the Leaf back into place when it started to leave its lane or I tried to nudge it into an adjacent lane that already had a car occupying it.

STANDARD AND OPTIONAL FEATURES ARE VERY GENEROUS
Now that I've started talking trims and features, the base Leaf S includes a generous supply of standard equipment such as a heatable steering wheel rim, heated front and rear seats, a battery heater, auto on/off LED headlamps with LED signature DRLs, proximity-sensing keyless access with pushbutton ignition, cruise control, a rearview monitor, Bluetooth phone connectivity with audio streaming, text message reading and response capability, four-speaker audio, satellite radio, and all the expected active and passive safety features.
Moving up to SV trim adds the previously noted advanced driver assist systems, the larger infotainment touchscreen with navigation and voice recognition, ProPILOT Assist, NissanConnect EV telematics, a hybrid heater system, 17-inch alloy wheels, fog lamps, an auto-dimming rearview mirror, a Homelink universal garage door opener, six-speaker audio, an eight-way powered driver's seat with powered lumbar support, and more, while the top-tier SL gains the extras already mentioned plus LED turn signals integrated into the side mirror housings, Nissan's very helpful 360-degree Intelligent Around View Monitor, and the impressive seven-speaker Bose audio upgrade noted earlier.

GOOD VALUE HELPS TO MAKE NEW LEAF MOST POPULAR EVER
Thanks to this impressive second-generation redesign, plenty of Canadian consumers are buying into the Leaf lifestyle, Vancouver's outrageously expensive gasoline costs and BC's ever-increasing fuel taxes doing their job to promote cleaner, zero-emissions transportation. I must admit that I'd rather plug in than pump too, and as of Q3 2018 exactly 10,000 Canadians chose likewise.
The Leaf's popularity has grown exponentially since it launched in 2011, with its first year of sales only resulting in 170 deliveries, its second calendar year just a bit more at 240, and the following years following suit with 470 units sold in 2013, 1,085 in 2014, 1,233 in 2015, 1,375 in 2016, a dip to 946 in 2017 due to the new model changeover, and now, wait for it, 4,481 new second-generation Leafs sold in the only first nine months of 2018 (believe it or not this hodgepodge of numbers actually added up to an even 10,000). That's incredible growth, while Nissan's global operations can also take a deep bow for creating the best-selling electric car of all time, with more than 300,000 Leafs delivered globally since inception.

In the end, the new Leaf is a considerable improvement over the original, so its recent surge up the sales charts makes perfect sense. If you're looking to make the switch from pump to plug-in EV and value is important to your decision-making, I can certainly recommend this stylish and sporty new Leaf.
Story credits: Trevor Hofmann, Canadian Auto Press
Photo credits: Karen Tuggay, Canadian Auto Press
Copyright: Canadian Auto Press Inc.