2019 NISSAN MICRA S ROAD TEST REVIEW
July 31 2019, Southside Nissan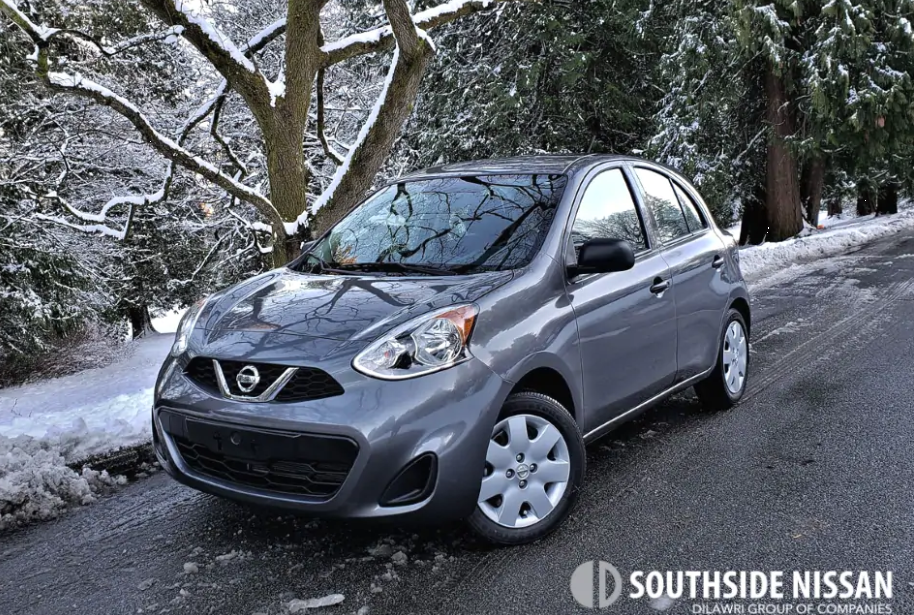 NISSAN INFUSES MICRA DASH WITH BIG NEW INFOTAINMENT TOUCHSCREEN

Looking for your first new car? Need something safe and reliable to get your kid to school? Or maybe you're on a fixed income and really don't want to pay too much in order to get the peace of mind that a new car warranty allows for? All are great reasons to choose a Nissan Micra, not to mention the joy of driving a really good little car.
If you didn't already know, the Micra is one of most affordable cars available to Canadian new-car shoppers, but this little hatchback proves that just because a car is inexpensive doesn't mean it needs to be a yawn-inducing bore. Quite the opposite really, because this feisty subcompact city car will have you sitting at your desk dreaming about the open highway throughout your workday, and by that, I'm not talking about travelling south on the multi-lane 99, or the even wider Trans-Canada heading east, but instead something serpentine like the Sea-to-Sky going north.

It really is a fun car to drive, but more newsworthy is this 2019 model's 7.0-inch centre touchscreen that even comes standard with the base Micra S tested here. It's a full-colour interface featuring a large reverse camera, Bluetooth streaming audio for wirelessly hooking up your smartphone, Apple's Siri Eyes Free, plus loads of other functions that can help enhance life when behind the wheel. Also, new, this as-tested base Micra S received a new steering wheel for 2019, featuring standard audio and phone switches that allow you to keep your eyes on the road while adjusting the volume, changing stations and answering calls.

The first Micra I tested back in 2015 didn't have any steering wheel buttons at all, and I must admit it looked a bit naked. That car was as base as base could be, exactly like the one on this page other than the just-noted updates, with its only option being an eye-catching hue of Metallic Blue paint that continues to be available in mid-range SV and top-line SR trims. Still, my current car's new Magnetic Gray paintwork looks good too, while its more subtle shade will, without doubt, endure the test of time. By the way, metallic paints only add an extra $135 to the bill, which is exactly the same price paid for this upgrade back in 2015.
Also worth mentioning, I previously covered the Micra in SR trim on two separate occasions. The 2016 example was painted an attractive blue-green colour dubbed the Caspian Sea, which remains available still, whereas the 2017 version came in Gun Metallic grey, that colour now replaced by my tester's Magnetic Gray. You can get the interior in any colour you want as long as it's Charcoal black, although take note that upper trims feature some playfully coloured fabric detailing.

PLENTY OF FEATURES FOR SUCH AMAZINGLY LOW PRICING

Perhaps the Micra's most impressive feature is its $10,488 base price, with this entry-level 2019 S model getting standard tilt steering, a trip computer, variable intermittent front and rear wipers, the previously mentioned steering wheel controls, micro-filtered ventilation, the larger 7.0-inch centre screen, a backup camera, AM/FM/CD/MP3/WMA audio with speed-sensitive volume and Radio Data System (RDS), a USB slot, an auxiliary input jack, a four-way adjustable driver's seat, 60/40 split-folding rear seatbacks, and much more.
If air conditioning, cruise control, and a balanced set of switchgear on the steering wheel's right side are important to you, just upgrade the base Micra S with its available automatic transmission and everything just mentioned is included.


The value this budget-oriented Micra S offers is exceptional, but plenty of Micra buyers are willing to spend the $15,598 asking price for mid-range SV trim thanks to all of the above features including the standard automatic transmission, plus body-coloured mirrors and outer door handles, remote locks, power windows, heated powered side mirrors, chrome interior door handles, air conditioning, two more stereo speakers, a six-way driver's seat with a drop-down armrest, the previously noted upholstery upgrade, and more, while SV buyers can also opt for a $400 SV Style package that adds 15-inch factory alloy wheels and a sporty rooftop spoiler.
Alternatively you can get an even more enticing set of machine-finished 16-inch alloys on larger-diameter 185/55 all-season tires as part of the $17,598 top-tier Micra SR, which also features the same rear spoiler, a set of sport headlights and sport tail lamps, front fog lights, special side sill extensions, more chrome exterior accents, and a bright metal exhaust tip on the outside, whereas upgrades inside include a standard leather-wrapped steering wheel, leather wrapping for the shifter knob when choosing the manual gearbox that's available once again, plus last but hardly least, even more attractive Sport fabric seats.

SUIT UP YOUR MICRA WITH SPECIAL ACCENT COLOURS FROM SOUTHSIDE NISSAN

Notably, except for exterior paint choices, you can't add factory options to SV and SR trims, but a whole host of dealer-added accessories can help make your Micra one of a kind. For instance, you can choose one of five contrasting colours for the side mirror housings while also adding sport stripes in the same colour by opting for the $219 Colour Studio City package. Want contrast coloured door handles too? Just upgrade to the $461 Trend package that's exclusive to SV and SR trims, while the Intensity package also colours the rear hatch finisher with same contrasting hue for $599, plus adds a "Premium Package" emblem. All of the coloured items can be upgraded individually too, as can colour centre wheel caps, while you can also have Southside Nissan install the SR's rooftop spoiler and chrome exhaust to your Micra S or SV.
Of course, there's no shortage of more conventional features available from the Micra's accessories catalogue, such as all-season floor mats, a cargo mat, bicycle and ski/snowboard/wakeboard carriers, etcetera, so even if you already own a Micra, you should find out more by asking your Southside Nissan parts representative for assistance.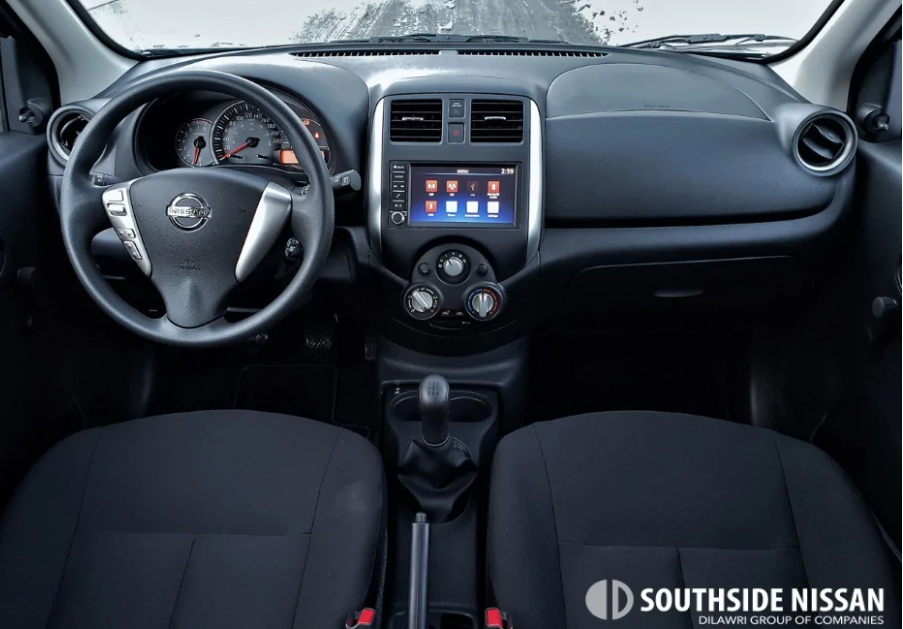 ECONOMICAL, PRACTICAL AND A WHOLE BUNCH OF FUN

At just under $10.5k, I don't think anyone would complain if the Micra was simply a well-made commuter car with a reasonably comfortable cabin and decent fuel economy, but it's actually very comfortable, is surprisingly roomy, especially when it comes to headspace, and on top of all that is a lot of fun to drive.
Take a Micra for a test drive and you'll soon find out what I'm talking about, especially if you find yourself on a steep hill like Kerr Street coming off of Marine Drive, Boundary off of Marine Way, or even better, Patterson or Sussex avenues from the old Marine Drive. Steep hills such as these will have you truly appreciate the extra power offered by the Micra's direct-injected 1.6-litre four-cylinder engine, which is good for a spirited 109 horsepower and 107 lb-ft of torque. That's considerably more than what most city car challengers provide, while my test model's five-speed manual was a joy to operate, plus it's clutch take-up was easy to modulate.

The little car's steering is highly responsive and wonderfully direct as well, plus its front strut and rear torsion beam suspension setup, featuring a stabilizer bar at each end, is surprisingly agile through high-speed corners, helped along by larger than segment-average 15-inch wheels on 185/60 all-season tires.
On that note, Nissan is so proud of the little Micra's performance that it hosts a competitive spec racing series each year. Yes, I'm serious. What's more, the Micra Cup is plenty of fun to watch, so check out the video I've added below because you (spoiler alert) wouldn't want to miss out on the wet-weather crash.

Accidents in mind, capable high-speed handling like I've been talking about can really help you avoid roadway mishaps. I certainly would rather drive around a problem than straight into the back of it, but sometimes accidents occur, and when they do you can take comfort in the knowledge that the Micra was made to protect its occupants with plenty of crumple zones and airbags, while its standard four-wheel anti-lock brakes with electronic brake-force distribution and brake assist go further toward MVA avoidance.
I don't know about you, but I'd rather think about all the gas I'd be saving if a Micra was my daily driver, thanks to an estimated fuel economy rating of only 8.7 L/100km in the city, 6.8 on the highway and 7.9 combined with the five-speed manual transmission, or alternatively 9.0 city, 6.8 highway and 8.0 combined for the automatic.

MICRA SHOULD BE YOUR FIRST CHOICE IN CITY CARS

I won't even try to hide my enthusiasm, because the Micra would easily be my choice if in the market for a new city car. Why? Fuel economy, its roomy, comfy interior, loads of cargo space, that new 7.0-inch infotainment touchscreen, its performance advantages, and finally exterior styling that truly works from all angles.
I've always found the Micra good looking, and I'm not just referring to its sporty front grille, rounded retrospective profile, and ideally proportioned taillights, but more so how the entire design presents a cool and collected classic small car look, that's especially eye-catching when those aforementioned contrasting colour details get added. Even more enticing is the way Nissan follows up the Micra's deft styling with real performance. I'm not going to go so far as to say it's the restored Datsun 510 of my dreams, but it's certainly endowed with that classic model's wolf in sheep's clothing spirit.

Find out for yourself by taking a new 2019 Micra for a test drive at Southside Nissan. Give us a call at (888) 815-4707, or simply drop by our showroom at 290 SW Marine Drive, Vancouver.