FRANK AFFETTUSO HANDS SOUTHSIDE NISSAN KEYS TO AJAY DILAWRI
July 26 2019, Southside Nissan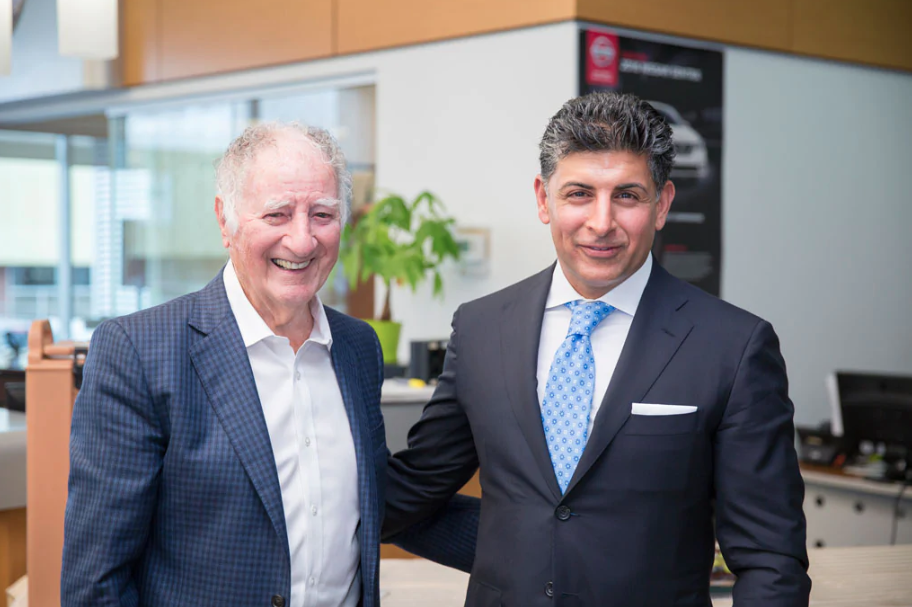 90-YEAR YOUNG FRANK AFFETTUSO HANDS SOUTHSIDE NISSAN KEYS TO AJAY DILAWRI
EMOTIONAL EVENT HIGHLIGHTS TRUST AFFETTUSO HAS IN NEW DILAWRI OWNERSHIP
You don't meet people like Frank Affettuso every day, or every year for that matter. An honest, straightforward, hardworking business owner who started from humble origins, the kid in the house across the alley from a car dealership, to one day owning a successful Nissan franchise that has employed hundreds of Lower Mainlanders over the years.
Near every morning for 44 years Frank drove across the city to open the doors to Southside Nissan. The first business of the day was to make coffee, greet his 45 employees as they arrived and customers after that, before handling the challenges of the day and evening (he worked 16 hours a day, seven days per week). Such a story may sound similar to that of other dedicated Canadian business owners, but the difference maker here is that Frank started what was then Southside Datsun in 1972 at the age of 46, which puts his chosen retirement age somewhat higher than the usual 65.
Frank is a 90-year young inspiration, a man small of stature but big in heart, quick with his still strong handshake, even quicker with a smile and sincere look in the eye, that sincerity made obvious by the affection he has for his dealership and love of his staff, which is openly returned in kind. Saying goodbye to his life's work was clearly difficult, Frank struggling to get through his comments while surrounding staff looked on with watering eyes, but it was time to "pass the baton", as Vincent Boerhof, Director for Nissan Canada's Dealer Network Development stated in his heartfelt address.
At a ceremony that celebrated his 44 years of successful Nissan franchise ownership, which included a year of number-one national sales status, the baton was indeed passed to Ajay Dilawri, President of the Dilawri Group of Companies, Canada's largest and most progressive automotive retailer.
Ajay spoke of an "exciting, yet bittersweet event," the exciting part being a new venture that's "a great fit for all of us." Facing Mr. Affettuso, his staff and attending media, and joined by additional Southside Nissan, Nissan Canada and Dilawri Group executives, Mr. Dilawri continued by saying, "Like Southside Nissan, the Dilawri group believes in putting people first, our customers, our employees and the people in our community. Like you, we believe in working as a team to build a positive workplace and in fostering a culture of dependability, efficiency and honesty. And, like you, we believe very strongly in giving back to the community. This is the belief on which we have built our dealerships and which we will continue into the future." The bitter part is "saying good-bye to Frank."
The auto industry has changed considerably over the past five years, let alone since Frank first started selling new Datsun 1200s, 510s, 610s, 620 Pickups, and 240Zs from his Southwest Marine Drive location, so the time was right to let go. That he chose Dilawri to take the reigns shows his trust in the highly reputable organization, knowing he was leaving his life's work and extended Southside family in good hands.
In Frank's personal comments he spoke of early times when, as an unsatisfied Finning mechanic who wanted to aspire to sales, he was told he'd "never make it." Fortunately a used car dealership on Kingsway gave him a chance, which led to an eventual used car dealership that was soon transformed into Southside Datsun in 1972, a business he and a partner started with $100 apiece and his house as collateral.
Of note, Frank was so essential to Nissan's early North American-market development that he actually purchased luxury cars from domestic carmakers and shipped them to Nissan's Japan headquarters for dissection, helping them learn about popular features and systems that likely assisted the automaker in its development of larger mid-size premium models like Maxima, which eventually led to its premium sector Infiniti division.
Dilawri now owns nine Nissan and Infiniti dealerships across Canada, allowing the group to realize nationwide synergies to benefit its business, employees and customers. Two of these dealerships are in Vancouver's lower mainland alone, the other being North Vancouver Nissan, which means there's now one more location to serve customer needs, while Southside Nissan employees are now part of a much larger organization that offers greater opportunity to advanced in their careers.
A win-win situation, Frank Affettuso will now be able to enjoy more time with his wife and children knowing that his Southside family is taken care of, but he's not about to let go completely, promising to drop by two or three times a week to check mail and have a coffee.
Story credits: Trevor Hofmann, Canadian Auto Press
Copyright: Canadian Auto Press Inc.