NEW AFFORDABLE LEAF PLUS PROVIDES 50-PERCENT MORE RANGE
July 31 2019, Southside Nissan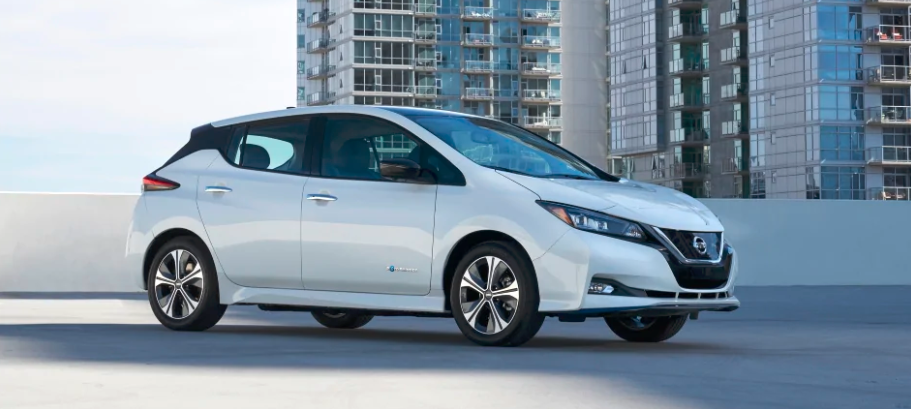 MORE POWER, QUICKER CHARGING AND LONGER RANGE COMBINE FOR WIN-WIN-WIN EV

The Nissan LEAF is the unprecedented leader in electric vehicle sales, having been purchased by more than 390,000 earth-friendly buyers since arriving on the global market in 2010.
With an eye to giving its customers more and therefore remaining number one, Nissan now provides the LEAF with two advanced power units, both of which are more capable than the battery/motor combination offered with the 2018 model.
Partway through the calendar year 2018, Nissan introduced its 2019 LEAF with a 16kWh stronger 40kWh Li-ion battery, and a more formidable 110-kW (147-horsepower) electric motor, which increased its fully charged battery range by 69 kilometres to 243 km. Now they've gone and done it again with a new LEAF PLUS that ups the battery by 22 kWh to 62 kWh, and then they mated it to a new 160-kW (214-hp) electric motor for an extended range of 363 km, which is an amazing 120 km farther on a single charge than the regular LEAF.
"With the addition of LEAF PLUS, the Nissan LEAF is now available with two battery options and a choice of four trim levels - each featuring the many advanced technologies offered under the banner of Nissan Intelligent Mobility," said Steve Rhind, director of marketing, Nissan Canada Inc.

AFFORDABLE PRICING AND SUPERB STANDARD FEATURES LIST
The 2019 LEAF PLUS starts at just $43,998, plus freight and fees, which is only $3,300 more than the regular $40,698 LEAF SV. The latter model is now the only 40kWh-powered LEAF trim available in Canada, with the new LEAF PLUS being offered in S trim, in $46,598 SV trim, and as the top-line $49,498 SL.
All-new LEAF PLUS trims include unique front and rear fascias with special blue highlights, an "e+" logo plate under the charge port lid, and new trim designation badges with the "PLUS" logo, while the entry-level LEAF S PLUS receives new standard Intelligent Forward Collision Warning (I-FCW), Rear Door Alert (that reminds if something or someone is in the back seating area upon arrival), and a 1.0-inch larger centre touchscreen measuring 8.0 inches.
Also notable, both regular LEAF SV and new LEAF S PLUS trims feature standard navigation with route guidance and detailed mapping, as well as Apple CarPlay and Android Auto smartphone connectivity, XM-SIRIUS satellite radio, and more, but you'll need to opt for SV trim with the LEAF PLUS if you'd also like to have voice recognition, NissanConnect EV (for remotely connecting via your smartphone), two additional stereo speakers for a total of six, and more.

PLENTY OF OPTIONS FOR OUTFITTING YOUR LEAF JUST THE WAY YOU LIKE IT

The regular LEAF SV and new LEAF SV PLUS also adds one-inch larger 17-inch alloy wheels, fog lights, an electromechanical parking brake, an auto-dimming rearview mirror, a Homelink universal garage door opener, an eight-way powered driver's seat with two-way power lumbar support, a cargo cover, and an entire suite of advanced driver-assistive systems such as Automatic Emergency Braking (AEB) with pedestrian detection, High Beam Assist, Intelligent Cruise Control with Full-Speed Range and Hold, the ProPILOT Assist semi-autonomous self-driving system, Steering Assist, Blind Spot Warning, Intelligent Lane Intervention, and Rear Cross Traffic Alert.
Those wanting more luxury with their zero-emissions experience can opt for top-line LEAF SL PLUS trim that adds sporty yet luxurious two-tone black and grey perforated leather and Bio Suede PET fabric seats, an Intelligent Around View Monitor, Driver Attention Alert, seven-speaker premium Bose audio, turn signal repeaters in the side mirrors, and more.

LEAF PLUS PERFORMANCE DELIVERS MORE THAN JUST GREATER RANGE

Along with the previously noted improvements in range, with the new LEAF PLUS capable of being driven 50 percent farther than the regular LEAF (this reason enough for most EV buyers to ante up for the more capable power unit), the LEAF PLUS combines this new type of EV performance with 13 percent better straight-line acceleration, therefore also delivering the kind of traditional performance driving enthusiasts are regularly willing to pay more for.
Now LEAF PLUS drivers can more "confidently pass slower-moving vehicles, exit corners faster and more seamlessly, and merge easily with fast-moving traffic," said Nissan Canada in a press release. Additionally, the LEAF PLUS receives a new top speed that's 10 percent faster, aiding more "comfortable cruising," added Nissan.

QUICKER CHARGING TO GET YOU ON YOUR WAY
Going fast is one thing, but in the EV world, fast charging is even more important. This is why Nissan provides every LEAF PLUS with a new standard 100kW-capacity quick charging system that can top up the battery to 80 percent in just 45 minutes.
What's more, it will only take another 5 minutes (50 minutes) for an 80-percent charge on a 75-kW DC quick charger, or just an hour with a 50-kW DC quick charger. Those using a regular LEAF will require about 40 minutes for the same 80-percent charge when hooked up to a 50-kW DC quick charger but take note the regular LEAF is not capable of utilizing a 75-kW or 100-kW DC faster charger.
LEAF owners that already have a 240-volt home charging system, and those who like to recharge via the hundreds of public stations available throughout greater Vancouver, will be able to refill the new LEAF PLUS battery from near-empty in about 11.5 hours, which is just 3.5 hours longer than with a regular LEAF, while a mere hour of charging on a 240-volt system will give the LEAF PLUS approximately 35 km of added range.
It goes without saying that the LEAF and LEAF PLUS are extremely efficient when compared to similarly sized and equipped gasoline-powered models, with Transport Canada ratings equaling 1.9 Le/100km in the city and 2.4 on the highway for the regular LEAF, or 2.1 Le/100km city and 2.5 highway for the new LEAF PLUS.
To be clear, while litres of gasoline are obviously not part of the above Le/100km equation, the special EV rating system helps us understand how an electric vehicle's energy consumption compares to the fuel economy of a given gasoline-powered vehicle, as well as how all EVs compare to each other.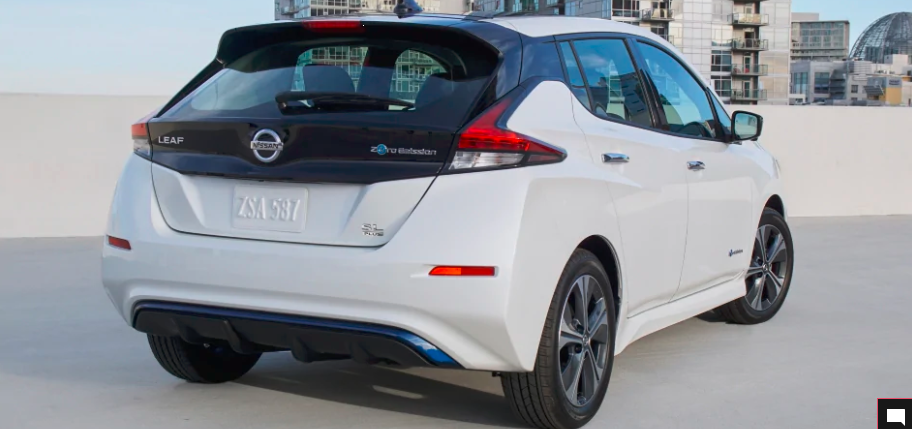 AS ACCOMMODATING FOR PASSENGERS AND CARGO AS EVER

If the LEAF and LEAF PLUS were to achieve such levels of clean, efficiency yet lack practicality, the effort would've been in vain. Fortunately, the most capable LEAF PLUS battery doesn't impinge on cabin room at all, with identical passenger compartment and cargo volume capability to the regular LEAF. This means the front and rear seats are still very accommodating for all body types, while the cargo area is good for a total of 668 litres behind its 60/40 split-folding rear seatbacks, and 849 litres when lowered.
Now that LEAF can serve the driving requirements of more EV buyers than ever before, you only need to decide if the initial savings and impressive standard features set of the LEAF SV meet your needs best, or whether the charging benefits, added range and improved performance of the new LEAF PLUS is more to your liking.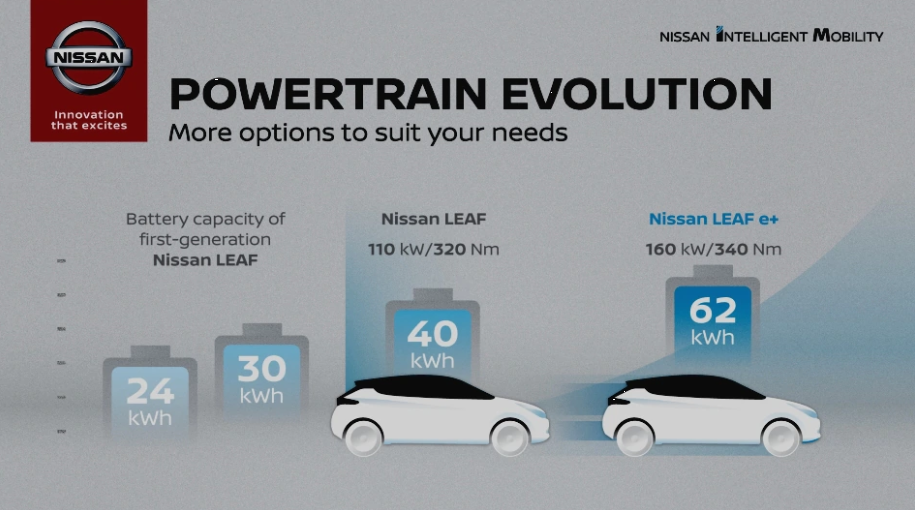 To find out more about the 2019 Nissan LEAF and LEAF PLUS, contact Southside Nissan at (888) 815-4707, or come visit us in our showroom at 290 SW Marine Drive, Vancouver.