NISSAN CERTIFIED PRE-OWNED
July 31 2019, Southside Nissan

A WARRANTY THAT DELIVERS

Every Nissan Certified Pre-Owned comes standard with a 12-month/20,000 km1Basic Powertrain warranty to safeguard your vehicle and your peace of mind. That means any covered repair will be completed at no cost to you for the duration of your warranty.2
WARRANTY:

• Repairs
• Rental Vehicle Assistance
• Towing Assistance
• Oil & Oil Filter Changes (Platinum Plans only)
• Premium Roadside Assistance, including Emergency
• Service Call, Fuel Delivery, Tire Change, and More

WEAR AND TEAR

Providing added value with our wear and tear warranty. Coverage includes shocks, struts, mufflers and brake pads, and is in effect for the term of the contract purchased. Only part coverage applies; labour is not included.
THE BASIC POWERTRAIN WARRANTY COVERS:

ENGINE

Cylinder block, and head(s) including all internal lubricated parts, valve cover(s), timing gears, tensioner(s), timing chain or timing belt other than maintenance, harmonic balancer, crankshaft pulley, intake and exhaust manifolds and collector(s), oil pump, drive plate, flywheel ring gear and engine mounts, supercharger/turbocharger housing and internal parts, supercharger/turbocharger valves, water pump, and seals and gaskets for listed components.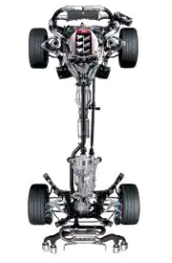 TRANSMISSION

Transmission case(s) and all internal parts including the torque converter, transmission mounts, clutch master cylinder, gaskets and seals for listed components.
FRONT WHEEL DRIVE

Constant velocity joints except for boots, axle shafts, final drive housing & internal parts, front-wheel bearings, gaskets and seals for listed components.
REAR WHEEL DRIVE AND FOUR WHEEL DRIVE

Differential case and all internal parts, driveshafts, propeller shaft(s), universal joints (journal assemblies), axle shafts, axle bearings and retainers, free-running hubs, constant velocity joints except boots, transfer case and all internal parts, viscous coupling, gaskets and seals for listed components.
HIGH TECH COMPONENTS

A/T control unit, A/T fluid temperature sensor and revolution sensor.
A RANGE OF UPGRADES. A SINGLE GOAL

Want even more protection? Sign up today for a Nissan Added Security Plan(ASP). Each ASP plan gives you additional component coverage and extends the length of the warranty with an unprecedented range of features and benefits.
COMPREHENSIVE PLAN COVERAGE:

For an even greater boost of confidence, this plan provides coverage for a vast range of parts. On top of all the items covered in the Basic Powertrain plan, items such as the engine radiator, fuel pump and master cylinder are just a small portion of the additional components covered.
PLATINUM:

For the ultimate in convenience and security, this is the plan you want - the closest thing to a new car warranty. With an almost complete mechanical component coverage, including all items covered in the previous plans, this plan affords piece of mind like no other.
1 Whichever comes first.
2 See your Nissan Dealer or read the back of the application form.