NISSAN DEBUTS INTELLIGENT REARVIEW MIRROR FOR 2018 ARMADA
July 11 2018, Southside Nissan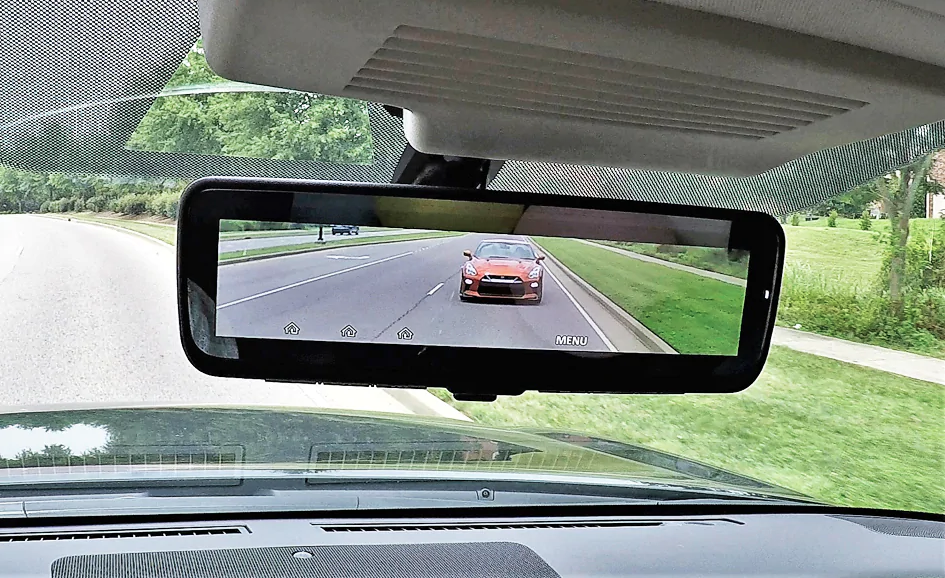 INNOVATIVE TECHNOLOGY ALLOWS CONVENTIONAL MIRROR AND REARVIEW CAMERA IN ONE
There are many reasons to like the full-size Armada SUV, but just the same Nissan has given us one more by adding a smart rearview mirror to top-line Platinum trim. It goes by the name of Intelligent Rear View Mirror (I-RVM), an apropos designation given the integrated LCD monitor that resides within.
"But that's nothing new," you say? Certainly, miniscule monitors within rearview mirrors have been around for a long time, and are easy to find in lower end production cars and the automotive aftermarket, while some manufacturers have even replaced the mirrored glass inside their rearview mirrors' hanging frame with a dedicated LCD display that projects a digital image sourced from cameras hidden on the backside of the vehicle. The I-RVM is very different, however.

Instead, Nissan's Intelligent Rear View Mirror provides a best-of-both-worlds answer to a question most of us never even thought to ask, although anyone with kids will be well aware of the problem it solves. It's difficult enough to see out the back window of your SUV when the second row is filled with passengers, and even more so when occupants in the third row come into view, or your rear compartment is filled to the roof with cargo, but thanks to the new I-RVM, heads blocking rearward vision can be made invisible without asking passengers to crouch down.
"One of the basic fundamentals we're taught when first learning to drive is checking the vehicle's mirrors, we learn to adjust in order to get an optimal line of sight. Nissan is taking that necessary safety step to the next level with the new I-RVM," said Bert Brooks, senior manager, product planning, Nissan Canada Inc. "It provides a clear, expanded field of view under a wide range of conditions - giving the driver the best possible view of the rear flanks no matter how crowded the back of the vehicle gets, whether it be with tall passengers or tall cargo."

INNOVATIVE NARROW-ANGLE CAMERAS MAKE THE DIFFERENCE IN CLARITY
How does it work? A simple flick of a switch on the bottom-centre of the mirror turns on an LCD mode for a totally clear view out the back window, the specially equipped Armada featuring precisely placed high-performance narrow-angle cameras and a specially shaped LCD monitor with a unique aspect ratio of approximately 4:1, for safer, more confidence-inspiring reversing.

What's a narrow-angle camera and why 4:1 instead of a conventional monitor's 4:3 or 16:9 aspect ratio? A standard wide-angle camera lens would have produced a "low-resolution image with insufficient picture quality" when matched up to the uniquely shaped monitor, said Nissan in a press release, resulting in the need to develop a narrow-angle camera just for this specific purpose.
To make sure images from the reverse camera and the naturally reflective surface of the conventional mirror don't overlap, Nissan used "a special technology to the structural design of the LCD monitor and the mirror," but that's as much as they were willing to divulge about their special sauce, so to speak. The technology might be nothing more than an old-school two-way mirror, but either way it reportedly works wonders.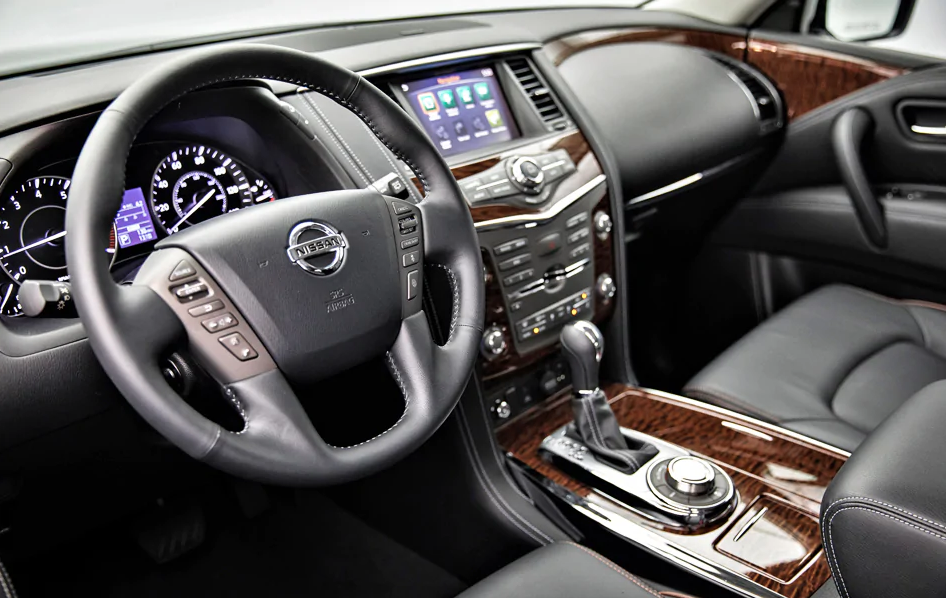 NEW MIRROR TECH ALSO ILLUMINATES BLIND SPOTS WHILE REDUCING GLARE
As an additional benefit, Nissan is also touting greater surrounding area coverage than a regular rearview mirror, the I-RVM effectively eliminating blind spots, while it also reduces glare during sunrise or sunset, or when someone from behind forgets to turn off their high beams, plus it improves visibility in low light conditions, which means that together with the Armada's standard 360-degree Around View parking monitor, plus its standard front and rear parking sensors, backing out of driveways onto busy roadways or from confined parking spots into crowded shopping mall car parks will be as safe as possible.
You'll need to move up from the base Armada SL to top-line Platinum trim in order to access Nissan's new Intelligent Rear View Mirror, at least for the time being. It debuts this September when the 2018 Armada arrives in Nissan showrooms across the country, so make sure you contact your local dealer to experience it personally. Nissan will no doubt roll this new technology out on other models throughout their range in due time, but so far there has been no additional announcement.