Standard AWD Makes 2019 Nissan Altima Stand out from the Mid-Size Crowd
July 31 2018, Trevor Hofmann - Canadian Auto Press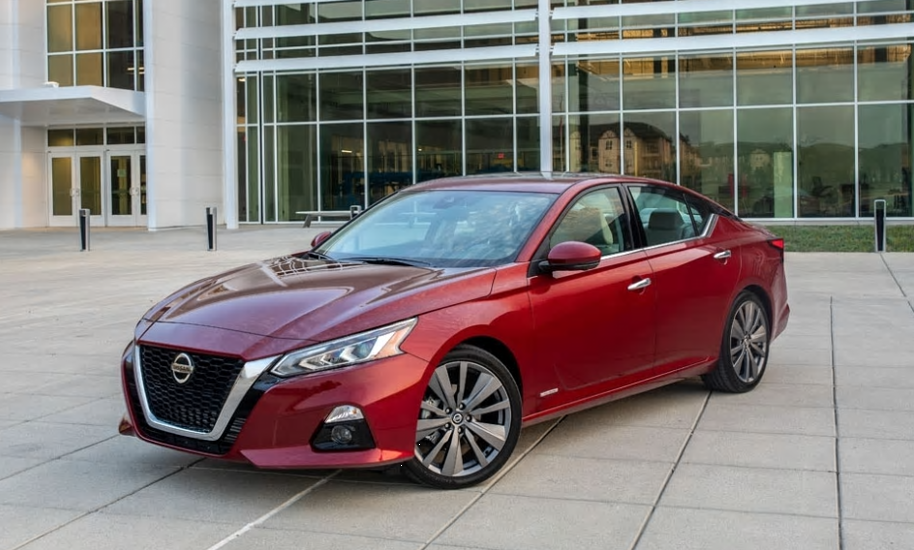 New Altima Is Big on Vmotion Style
For 2019, Nissan offers up a much bolder looking Altima than ever before, and we think it will please the many fans of this venerable nameplate, while also attracting new buyers that may never have considered a mid-size Nissan before.
The 2019 Nissan Altima all starts off with the new Vmotion 2.0 grille, which is a reshaped version of the now trademark Nissan grille design. Basically, the "V" shape of the grille has been flattened on the bottom to form more of a "U", just like with other recent Nissan redesigns. Also, following current trends that grille has grown to sizeable proportions, giving the car a grander, more premium look.
Additionally, new LED headlamps and taillights look sharper and more sophisticated, while the rear C-pillars feature a narrow glossy black strip for a floating roof effect, similar to that on the brand's flagship Maxima luxury sedan. From front to back the new look makes a dramatic statement, but it's tastefully designed so should be widely accepted by Altima owners and newcomers alike.

Longer, Wider and Roomier Than Any Previous Altima
The updated model is 25 mm longer, 23 mm wider and 28 mm lower than the car it replaces, giving it a sportier stance all-round, while its wheelbase has grown by 48 mm. The sleek sheetmetal helps Nissan achieve a slippery 0.26 coefficient of drag, improving highway fuel economy while reducing wind noise, plus its larger dimensions provide more interior room all-round. Additionally, the wheels have been pushed farther to each corner, adding to its athletic appearance while providing more stability at high speeds and a better ride, but we'll have to wait for a test drive before confirmation.
That should happen shortly after the updated Altima arrives this fall, at which point we'll also be able to advise on its reportedly quieter, smoother and more efficient 2.5-litre four-cylinder engine, now 9 horsepower and 3 lb-ft of torque stronger than the outgoing engine at 188 horsepower and 180 lb-ft; its revised Xtronic CVT that gets an expanded lock-up area for improved fuel economy, plus available paddle shifters; and its standard all-wheel drive.

Standard AWD Sets the Altima Apart
Yes, for the first time ever the 2019 Altima comes standard with all-wheel drive. This is a bold move for the brand's Canadian division, but it certainly separates the car from most competitors that don't offer AWD at all.
Dubbed Intelligent AWD, it features an advanced torque split design that automatically distributes power from 100 percent up front and zero at the rear, all the way to an even division of 50 percent front to rear. The bias depends on road conditions and resulting wheel slippage, with the default being front-wheel drive to save fuel. Nissan says the new AWD system works seamlessly with the Altima's standard limited-slip differential too, plus its Hill Start Assist system.


Considering that AWD is a key reason new car buyers are choosing crossover SUVs more often than conventional cars these days, the new Altima could find sales traction where the majority of FWD competitors are losing ground, especially if fuel costs continue to climb here in Vancouver where they're currently highest in North America. Cars are traditionally more fuel-efficient than their heavier SUV counterparts, so the Altima could provide a best-of-both-worlds scenario.

New Altima Interior Shows off More Style, Space and Premium Features
Inside, Nissan promises a sporty yet sophisticated design that replaces traditional chrome embellishment with matte chrome accents and satin finishes, while there's a bit less of each than with previous Altima models for a more modern look. Additionally, the driver and front passenger benefit from a lower dash top resulting in an airier, more open ambience, the entire instrument panel tastefully minimalist, seeming to naturally flow from one element to the next.
Likewise it's almost completely devoid of clutter, with most centre stack controls housed in a large 8.0-inch fixed tablet-style infotainment touchscreen protruding upward from the dash top, this complete with Apple CarPlay, Android Auto, a rearview camera, and more. A nicely sorted dual-zone automatic climate control interface sits on its own just below, while the driver gets a dedicated full-colour 7.0-inch TFT multi-information display within the gauge cluster.

Nissan says it put special emphasis on giving all of the Altima's switches and controls "an intuitive, effortless feel and natural operation," so we're looking forward to experiencing the result of this concentrated effort, while the NASA-inspired Zero Gravity seats have our curiosity piqued as well. Nissan claims these are especially good at providing long driving range comfort thanks to dual-density foam, plus some extra bolstering is said to improve support while driving around town.


ProPilot Assist Provides Semi-Autonomous Driver Assistance
Something else that sets the Altima apart from key rivals is Nissan's ProPilot Assist semi-autonomous driving technology. To be clear, ProPilot Assist doesn't turn your Altima into a self-driving autonomous vehicle, but instead helps to keep drivers in the middle of a chosen lane by adjusting the steering automatically, has the ability to navigate stop-and-go traffic, and maintains set speeds and distances to vehicles ahead, simply by pressing two buttons. Basically, all you need to do is activate the system and then set the adaptive cruise control, at which point the Altima will steer itself as long as your hands are still touching the wheel.
The new Altima should certainly handle those highways and byways well, thanks to standard front MacPherson struts and a rear multi-link suspension setup, plus an electric power steering system featuring new dual steering pinions for improved precision, while an upscale set of monotube rear shocks improves damping.


We won't know about standard features, trims and pricing until closer to launch, or for that matter anything to do with options and packages, but we can expect the same eight-way powered driver's seat as offered to our American friends, plus standard fabric and optional leather upholstery, heated front seats, LED headlights, a Bose audio upgrade, available navigation, a powered moonroof, and more, while a bevy of advanced driver assistance systems will likely include forward-collision warning, automatic emergency braking, blindspot monitoring, active lane control, adaptive cruise control, and more.
To find out more about the 2019 Nissan Altima, contact us or drop by the showroom in Vancouver.
Story credits: Trevor Hofmann, Canadian Auto Press
Photo credits: Nissan
Copyright: Canadian Auto Press Inc.